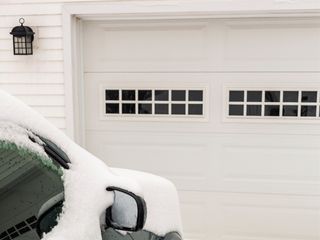 A modern garage is not just used for parking a vehicle; most homeowners organize it to be used as storage for seasonal items, and some dads use it as a workshop. The area is kept safe and secure for everyone, regardless of the season. Most homeowners also make an effort to winter-proof the room, since extreme cold weather can have adverse effects. You can make the room warmer by starting with your garage door.
If you have a standard garage door, it is designed for security first, meaning it is designed to keep thieves out rather than to keep warmth in.
Insulate Your Garage Door
Garage door contractors typically resolve this issue by insulating the door. They commonly use soft-spun fiberglass or solid polystyrene sheets, which are placed in between panels since the polystyrene pops, while the soft fiberglass is held by plastic clips attached to the door.
Use Weatherstripping Around the Door
Aside from insulating the door itself, most installers use weather stripping to insulate around the door. However, aging doors may already have cracked strips, which can be replaced or installed using a bottom seal, a strip of pliable vinyl, foam, or rubber, to keep drafts away from underneath the door. An additional layer of weather stripping can be used to treat gaps around the sides of the door.
Or, Rather Buy A Weatherproof Garage Door
If you are thinking of installing a new overhead door for your garage, why not upgrade to a weatherproof product with built-in insulation and better seals to keep winter winds from entering through the cracks? You may also need to check if you need to replace the garage door panels to ensure that no wind enters the gaps or cracks. Insulation is necessary if your garage is attached to your home. Aside from comfort, you could also benefit from it by saving energy and cutting your electricity bills.