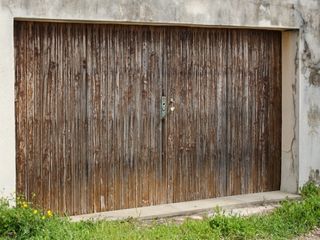 Not all faces need peeling! Forget what you do in your bathroom; when it comes to the surface of the garage door, it must be smooth. If the paint starts peeling off, you either haven't taken care of it for decades or it was not painted correctly the first time. Either way, you must take action today; the more you leave the problem without addressing it, the more it will expand.
When it comes to peeling doors, this is the last thing you want. Steel peeling doors will mean trouble, as Garage Door Repair in Maplewood says. The peeling paint will reveal the material and expose it to the elements, which could lead to erosion. In the case of wood doors, it would mean rotting. Neither of these problems is good news, and that's why it's vital for you to fix the door now.
Maintain, Maintain, Maintain
It wouldn't be a bad idea to do some maintenance on your garage door before doing anything else. It's nice to have a freshly painted door, but if it doesn't work properly it won't look good. While you are there checking the system, don't forget to thoroughly check the door as well. If the problem started due to lack of maintenance in the first place, it's a good idea to check if there are any other vulnerable parts on the door.
Check the edges, especially if you have a wooden door, as they tend to warp faster and you may need to do further repairs. If there is a need for further garage door repairs, do them now so that you won't have to deal with them later. Safety should always come before aesthetics.
Get the Right Coatings
Of course, taking care of the overhead door is not only about aesthetics. If it is not treated correctly, the door could be destroyed and it will not be resistant (expect company pretty soon from thieves, winds, and other enemies). The material remains strong when it is painted correctly and it all starts by using the right coatings. It is different choosing paint for a steel door and it is another thing getting coatings for wood doors. The latter might need a primer and coatings, which keep the door from being ruined due to humidity. As for the color, if you are only going to paint certain parts and not the whole door, make sure you get the exact same shade (otherwise your sectional doors will be the laughingstock of the neighborhood).
Do the Job Correctly
In order for the paint to be applied well and not peel off soon, sand the surface. Not only will this get rid of any peeling residues, but it will also create the right texture for the final coating to be applied correctly. Make sure to clean the door thoroughly before you start painting to remove any residues, or the coating won't adhere properly – especially if there are small raised areas. One more piece of advice: choose to do the job on a nice day. You don't want any flying objects due to wind sticking to the freshly painted door (unless you plan on creating surreal designs).