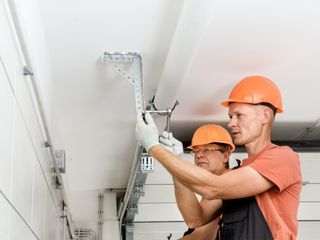 Garage door replacement is one of the great services our company has to offer. We hire the best people in the field who have specialized training and continuously update themselves to provide excellent service to our clients. Our team not only focuses on replacing the entire door, but also on fixing and replacing every little part of it.
As we are committed to delivering perfect results for any garage door repair problems, Garage Door Repair Maplewood has invested funds to have all the right equipment and tools for the business to stay on top. Our company also has a collection of different high-quality, durable parts that will be needed in any replacement service, ranging from a new garage door to any other components such as springs, cables, or openers.
The Best Solutions To Any Potential Garage Malfunction
Our efficiency at work is unparalleled compared to others due to our expertise in what we do. Our technicians are constantly improving their technical skills and they have many years of experience in garage door replacement. We do not just replace parts for an additional charge; you can trust us to provide the best solutions to correct any potential garage malfunction.
We are Equipped with Full Knowledge for the Replacement of Different Garage Parts
Our people are knowledgeable in every mechanism that contributes to the functioning of different types of garage doors. By simply checking all parts of the door, we can identify the part that needs to be replaced so that it works like new. Thanks to their extensive knowledge, completing a repair task is faster and it also benefits customers.
There is no need to look for other options, as we offer everything. When you contact us, you can be assured of connecting with reliable repair professionals who will assist you promptly at any time of the day or night. Let us share our top-rated services with you; send us an email.